I was really skeptical of this deal when it first came out. Having lived in Montreal and knowing their love of both hockey and goalies, I didn't think Price could mentally rebound from the pressures of that city. The press can turn on you in a second, and everyone's an expert; but against the odds, Price has been spectacular this year. He has finally risen to his great expectations that come with the Habs' crease. Boasting an NHL's best number of games played and won as well as the second most shut-outs, the fourth best save percentage, and the sixth best goals against average, his numbers are extremely impressive.
But let's get serious. Montreal's memory is only as long as their playoff run. The last piece to this young goalie's star-power is his ability to perform in the playoffs. He's had decent runs in the regular season before but has cracked under the pressure. Halak, on the other hand, actually earned his newfound salary in the playoffs. Having come off backup duty in the regular season, he stood on his head for two playoff years in a row. As the undisputed starting goalie in St. Louis, he started off extremely hot (breaking Plante's record of the fastest start to three shutouts in St. Louis). But breaking your hand may slow you down (for those younger goalies... lesson: no matter how good your glove is, pucks flying at high velocities will still hurt and break things. Catching in the netting is your best bet).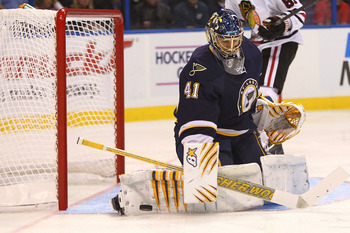 goo.gl/Qydm5 -- Love the Brians blocker. Always my favorite.
So where does this leave the two young goalies? I think a showdown in the playoffs would be quite fitting, but that's a long shot. It's really a tough call to see which goalie will break out in the playoffs (if any of them do). St. Louis has some momentum now with their pickups before the trade deadline. They are starting to gel and have started March on a hot streak. But so has Montreal. After a lackluster February, they are fine tuning for the last run till playoffs. Personally, I think that St. Louis will make a first round upset in the playoffs. If they stay healthy, they have all the components to be an extremely formidable team. Montreal is facing some tough injuries (best wishes Pacioretty!) and has faltered in the weeks leading up to the playoffs. If Price stays solid and builds up steam in the last few weeks, Montreal stands a good chance to finally adding to their storied legacy.